The former quarters of Robert and Clara Schumann
The museum with the current exhibition can be found in the former quarters of Robert and Clara Schumann, on the first floor.
The Schumann Hall with its fine wall ornamentation, which has been restored to match the original, is a gem among concert halls in Leipzig and the surrounding region. The young newlyweds used this hall to receive guests; among them such well-known contemporaries as Hector Berlioz, Franz Liszt, Felix Mendelssohn Bartholdy, and Hans Christian Andersen.  The hall's furnishings with timber floor boards and double wing doors, as well as an oven from the mid-19th century provide an authentic overall impression.  Today numerous chamber music concerts take place here throughout the year.
Posterity shall see us as one heart
and one soul, and not be able to tell
what is mine and what is yours.
(Robert)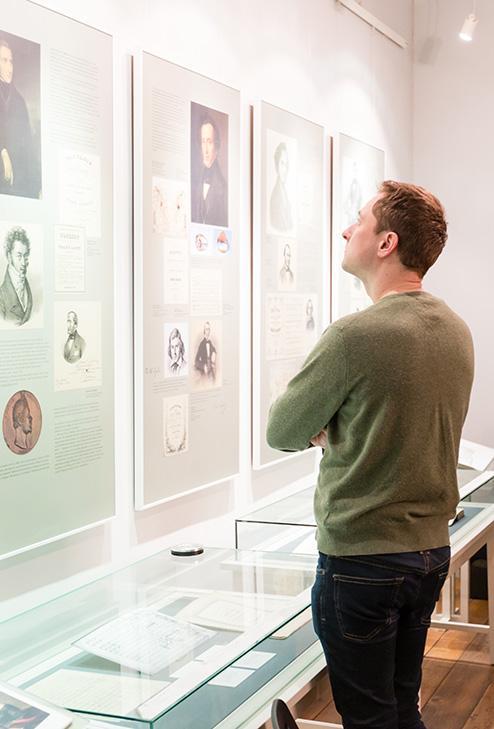 Current exhibition
Youth and artistic career
The display in the two cabinets shows Robert and Clara Schumann's youth and their respective artistic development. Additionally, it gives a thorough overview of the great significance of the Schumann House as a place of international encounter for artists.  Among some of the interesting pieces in the exhibit are the square piano belonging to Friedrich Wieck (built ca. 1825) as well as the original preserved fortepiano belonging to Wilhelm Wieck from the year 1866.