Schumann Festival Weeks 2019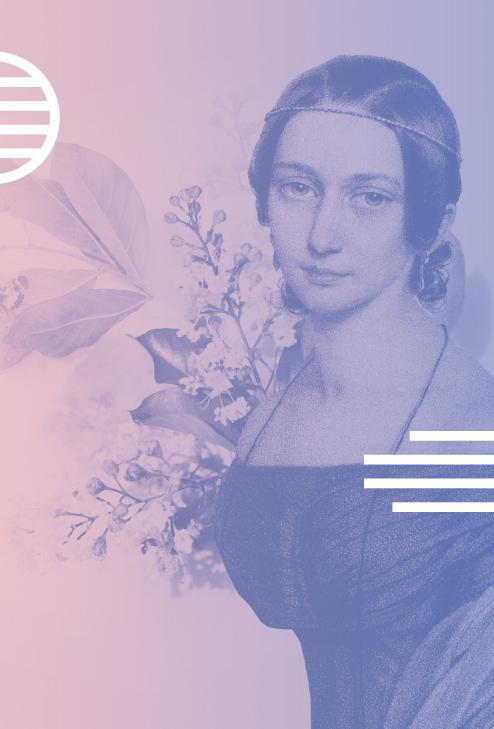 The Schumann Festival Weeks as part of the anniversary year CLARA19
CLARA19 will reach its peak with the Schumann Festival Weeks (September 12th-29th, 2019) around her birthday (Sept. 13th 1819) and wedding anniversary (Sept. 12th 1840). The pianist Lauma Skride will begin and end the Festival Weeks. On September 12th/13th, 2019, she will perform Clara Schumann's piano concerto op. 7 in the "Großes Concert" with the Gewandhaus orchestra under the direction of Gewandhauskapellmeister Andris Nelsons. On September 29th, 2019, she will perform together with soprano Olena Tokar in the Schumann-Haus.
Great things await on September 14th, 2019: The Schumann-Haus Leipzig will present its new museum concept, which was developed in cooperation with the curator and Clara Schumann scholar, Dr. Beatrix Borchard. This will be celebrated with a big street festival on the Inselstraße. Further concerts in the Schumann-Haus will be given by pianist Ragna Schirmer and cellist Peter Bruns (Sept. 15th, 2019), the Vogler Quartet (Sept. 25th, 2019), the great-great-great-granddaughter of Clara Schumann, Heike-Angela Moser (Sept. 26st, 2019), amarcord (Sept. 27th, 2019), Susanne Grützmann (Sept. 28th, 2019), among others.
Chamber music festival "10 for Clara" from September 18th – 22nd, 2019
Especially for this anniversary year, the director of the Schumann-Haus, Gregor Nowak, was able to initiate a separate chamber music festival "10 for Clara1" (September 18th-22nd, 2019) as part of the Schumann Festival Weeks. "We would like to recreate the intensive chamber music life of the Schumanns with this "10 for Clara" The most influential artists of the 19th century got together here in the salons of Leipzig, played the newest compositions or arrangements, and exchanged ideas. Ten internationally renowned artists concertize together for one week in places that were awarded the European Cultural Heritage Label in 2018. In "Clara's Club" on Inselstraße 18 things continue after the concert. In a relaxed atmosphere, accompanied by DJ sets, there is an opportunity to mingle and to listen to a small preview of the next evening."
Experience artists such as Antje Weithaas, Dong Suk Kang and Sayako Kusaka (violin), Pauline Sachse (viola), Marie-Elisabeth Hecker and Peter Bruns (violoncello), Martin Helmchen, Antti Siirala and Annegret Kuttner (piano) as well as Benedikt Hübner (contrabass). The ten artists will play five concerts in four locations: the Schumann-Haus (September 18th + 22nd, 2019), in the Summer Hall of the Bach-Museum (Sept. 19th, 2019), in the Old St. Nicholas School (Sept. 20th, 2019), and in the Grieg museum (Sept. 21st, 2019). For all five concerts as well as the three evenings in "Clara's Club" there is a limited amount of festival passes available.
You can find more information about this at: Phone: 0341-3939 2191
Schedule
Schumann Festival Weeks 2019